METAL-SOFT-MATERIAL GASKETS
These seals have proven themselves in all industrial sectors, even for difficult sealing tasks. Especially where high pressures and temperatures and thus higher bolt forces have to be controlled and high sealing requirements have to be met.
The protection of the flanges is absolute, as the geometry of the metallic carriers is always specially adapted to the soft material. Due to the versatile manufacturing possibilities in the form of round rings, ovals or frames, which can be with or without webs, holes and retaining straps, they find access to numerous applications.
» RUBBER-STEEL GASKETS
» CORRUGATED GASKETS
» HOT FURNACE GASKETS
» SPIRALE-WOUND GASKETS
» GROOVED GASKETS
» METAL JACKETED GASKETS
RUBBER-STEEL GASKETS
for a variety of applications in sealing technology
Rubber-steel gaskets have amassed a wide range of appli­cations in sealing technology. Wherever the secure sealing of media with an exceptionally low leak rate, as well as low bolt loads at relatively low temperatures is required, rubber-steel gaskets provide the optimal solution.
The steel support ring prevents a blow out of the gasket and increases stability, allowing the rubber-steel gasket to be handled easily, even in difficult fitting conditions.
The rubber sealing material ensures a secure seal is cre­ated, even in uneven locations, as it has an excellent ability to adapt to sealing surfaces. In conforming to the maximum allowable installation surface pressure, rubber-steel gas­kets fulfil the requirements of the TA Luft having regard to clause 3.3.1.4 of the VDI Guidelines 2440.
Downloads
Enclosed you will find downloads such as product documentation, product data sheet, safety information and gasket characteristics.

Product documentation RUBBER-STEEL GASKETS (pdf)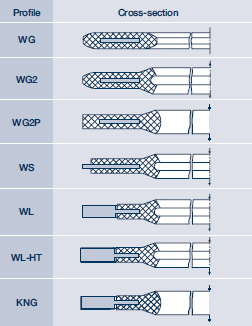 CORRUGATED GASKETS
Universally applicable sealing elements
Corrugated gaskets are universally applicable sealing ele­ments. Due to the wide range of shapes that they can be produced in – including rings, ovals, elongated ovals or frames, with or without dividers, holes and retaining plates -they continue to be used in new areas. The gaskets can be fully or partially coated. Corrugated gaskets with torque sup­port have proven excellent when used with inflexible flanges. gewellte Dichtungen mit Drehmomentstütze ausgezeich­net bewährt.
Even with unmachined flanges, a satisfactory seal can be achieved with the use of suitable soft-material layers. The gaskets can be produced in all the usual sizes up to 6000 mm.
Downloads
Enclosed you will find downloads such as product documentation, product data sheet, safety information and gasket characteristics.

Product documentation CORRUGATED GASKETS (pdf)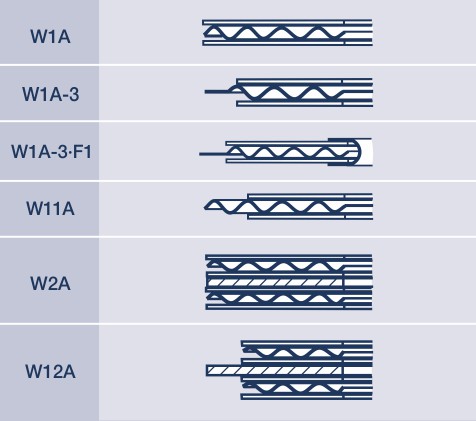 HOT-GAS AND HOT-BLAST GASKETS
Well proven for years in the metallurgical industry
KLINGER Kempchen's hot-gas and hot-blast gaskets have proven themselves over many years of use in the iron and steel industry. Hot-gas and hot-blast gaskets are primarily used with dry gases and with high, dry heat. They are very suitable for the harsh conditions in hot-gas and hot-blast lines which also generally have low pressure. Depending on the leak-tightness required and the flange temperature, there are a number of models available.
Most gaskets can withstand the demands made of a gasket when used in hot-gas or hot-blast lines. The gaskets can withstand high temperatures, are non-flammable and chemi­cally resistant against dry, hot gases. They are used at high temperatures and at pressures of up to 10 bars. Gaskets with graphite inlays can be used at temperatures up to 550 °C.
The gaskets are available as circular or oval sealing rings or as frames. In their standard form they consist of a 3 mm thick core of unalloyed steel and a coating of fibreglass impreg­nated with graphite.
We can produce frame gaskets with welded plates or in some cases with holes directly from client drawings. If re­quested, we can also supply these gaskets with a different steel core, for example 1.4541 or 1.5414.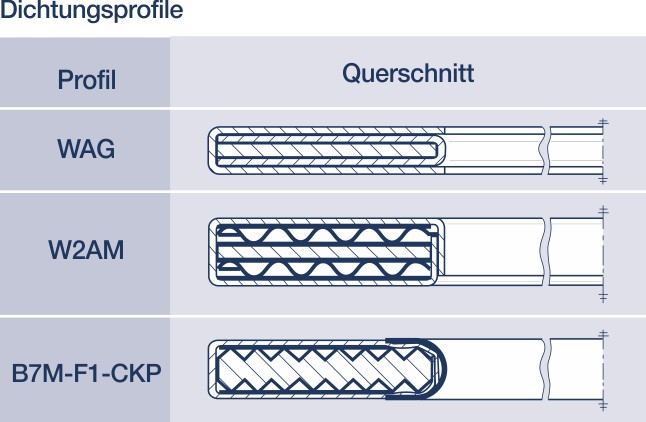 Downloads
Enclosed you will find downloads such as product documentation, product data sheet, safety information and gasket characteristics.

Product documentation HOT-GAS AND HOT-BLAST GASKETS (pdf)
SPIRAL-WOUND GASKETS
Spiroflex
Spiral-wound gaskets have long been used as sealing ele­ments in refineries, chemical plants, gas installations, wa­ter treatment plants and in general pipeline construction.gemeinen Rohrleitungsbau.
Spiroflex gaskets SpV retain the same filler strip throughout. Common filler materials include graphite, sintered or unsintered PTFE and mica. Spiroflex gaskets SpV are only suitable for flange connections below PN 25 where there are sufficiently high bolt loads available.
BAM test report: Profile SpV with graphite for liquid and gas­eous oxygen 350 °C, 250 bar (Manufacturer certificate on the basis of a BAM test report).
Spiroflex gaskets with sealing zone Profile SpZ have the same filler strip inside and outside and a PTFE filler strip in the middle area. They have a number of distinct technical ad­vantages:
» Lower seating stress required with higher leak-tightness, as the surface pressure is concentrated on the middle area of the sealing zone of unsintered PTFE. This allows Profile SpZ gaskets to be used from PN 10. The mini­mum surface pressure is 30 N/mm² as opposed to the 50 N/mm² otherwise required.

» The surface pressure creates smaller radial forces than for example gaskets that are filled entirely with PTFE. There is therefore no need to support the spiral with an inner ring at smaller nominal diameters up to max. DN 200 and at low sealing pressures of approx. 60 N/mm². High pressure and/or frequent load changes require a high sealing pressure, in this case the spirals should be sup­ported with an appropriate flange design or additional rings.

» As the PTFE sealing zone is protected by areas filled with graphite, it can withstand extreme operational conditions.

» Using a helium leak detector, leak rates of 10-8 mbar I s-1 m-1 have been measured on SpZ gaskets DN 150 with PTFE sealing zone.
Spiroflex gaskets SpFS in the "Firesafe" range have unsintered PTFE filler strips on the inside and graphite filler strips on the outside. They are suitable for applications where the product may not come into contact with the graphite and in an operating temperature range below 250 °C. At tem­peratures above 250 °C which require to be "Firesafe", Spiroflex gaskets SpV with graphite filler band can be used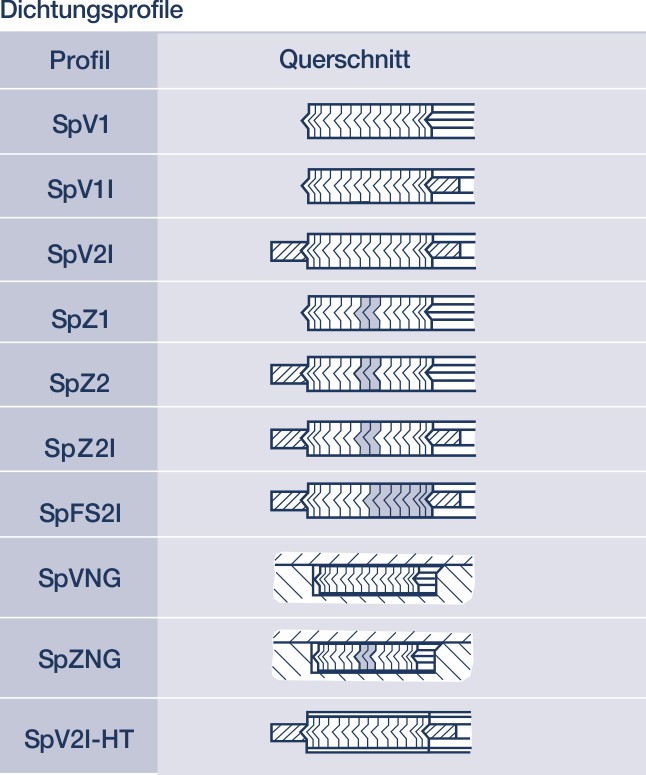 Downloads
Enclosed you will find downloads such as product documentation, product data sheet, safety information and gasket characteristics.

Product documentation SPIRAL-WOUND GASKETS (pdf)
GROOVED GASKETS
High pressures and temperatures – mastering high bolt forces
Grooved gaskets have proven extremely useful in all areas of industry, including the most demanding sealing tasks. Our grooved gaskets can be found in conventional power plants as well as in the primary circuit of nuclear power plants. In nuclear power plants, they are used e.g. as a heat ex­changer gasket, as a valve cap gasket or as a manhole cover gasket on steam generators or pressurisers.
Grooved gaskets have also been used to great success in the chemical and petrochemical industries. Particularly in places where there are high pressures and temperatures, and therefore high bolt loads, to contend with. In order to avoid damage to the flanges by the metal core, grooved gas­kets are generally used with layers of PTFE, graphite, alu­minium or silver. This gives total protection to the flanges, as the profile geometry has been specifically adjusted to suit the thickness of the layer.
We have developed a range of profiles to suit the various properties of the layer materials.
The principal purpose of the soft layers is not however to protect the flanges, but to provide a secure seal even at low minimum surface pressures. A triaxial stress is created in the profiling of the metallic carrier which has been filled with the layer material. The load capacity is limited by the break­ing point of the gasket and/or flange material. The stability of this combination is therefore significantly higher than with a pure PTFE, graphite, aluminium or silver seal.
Grooved gaskets be produced in sizes ranging from a few millimetres to a diameter of 4,500 mm on our lathes. The possibility of producing gaskets with greater diameters or one-off production from drawings, such as oval gaskets, can be examined in individual cases. For gaskets in heat exchangers with partitions, it is necessary to insert partitions with grooves of the same profile.
Downloads
Enclosed you will find downloads such as product documentation, product data sheet, safety information and gasket characteristics.

Product documentation GROOVED GASKETS (pdf)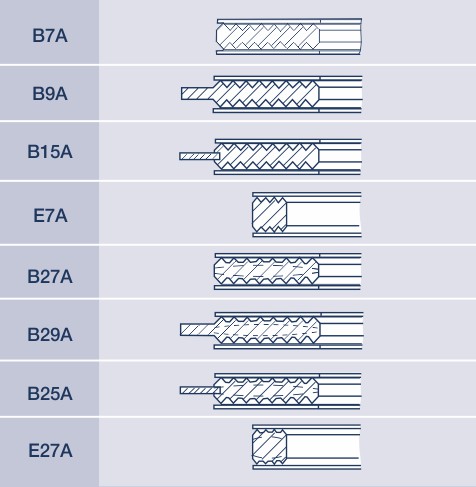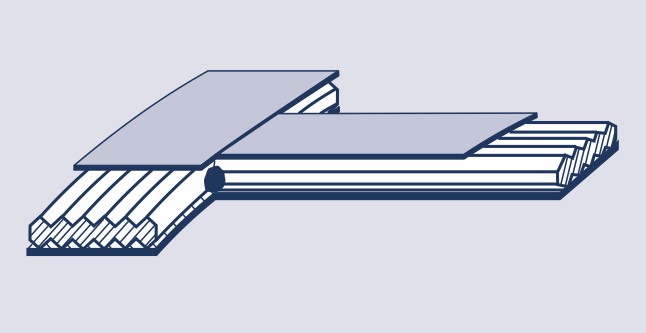 METAL JACKETED GASKETS
Metal jacketed gaskets are proven sealing elements for use in apparatus construction, which are however increasingly being replaced at temperatures up to 550 °C by metal/soft-material gaskets, such as grooved gaskets.
At temperatures above 500 °C, such as in hot-blast areas, metal jacketed gaskets can still hold their own against solid metal gas­kets such as weld ring gaskets.
Jacketed gaskets generally consist of a metal sheet coating with an insert of RivaTherm Super, graphite or FA1) or some layers of sheet metal.
The metal sheet coating should be as soft and flexible as possible, but to prevent corrosion it is often made from a stainless steel jacket in 1.4541 or 1.4571 steel.
The harder the jacket, the finer the flange roughness needs to be.
The inlay is selected according to the flange irregularities that need to be covered. The better the quality and the even­ness of the sealing surfaces, the harder the inlay can be.
There is a wide range of possible combinations; the follow­ing are extremes at both ends:
very soft: Coating of aluminium,
inlay of graphite
very hard: Coating of stainless steel,
inlay of micalimmer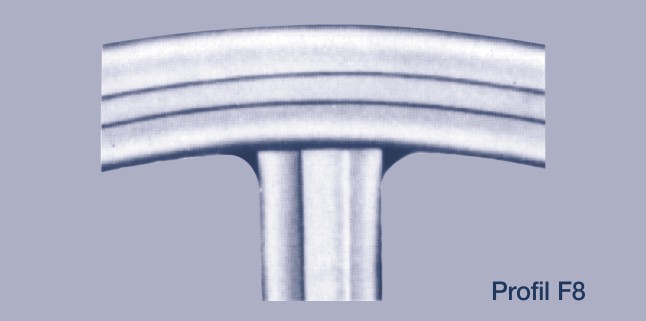 Downloads
Enclosed you will find downloads such as product documentation, product data sheet, safety information and gasket characteristics.

Product documentation METAL JACKETED GASKETS (pdf)